Teaching gives me a great sense of fulfillment in addition to helping support my creative objectives. If you are interested in a private or group workshop, Tell me a bit of what you are looking for and let's see if we can make some art happen.
Featured here are some of the public workshops I led.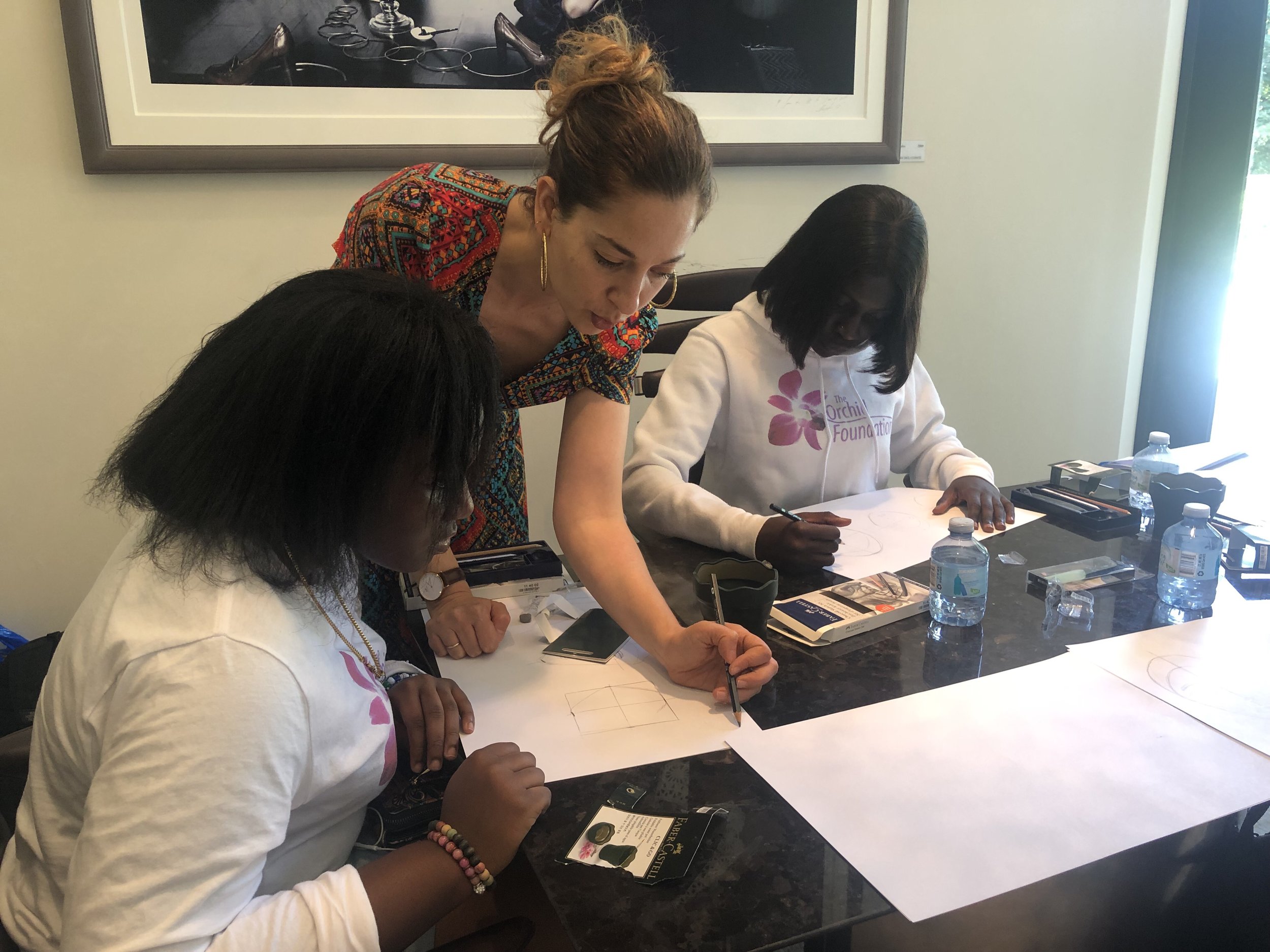 The Orchid Foundation Workshop
NYC, August 14, 2019
Shared some of my drawing techniques with these beautiful Orchids who in turn inspired me with their bright minds, self-motivation, exciting education and fearless career plans. Ages 15-18, Coumba, Alexa and Michaella.
MAKING FUTURES BLOSSOM
The Orchid Foundation's mission is to mentor underserved high school girls. They choose girls that are excelling in their academic and/or extracurricular pursuits and help fill the resource gap presented by their socioeconomic backgrounds. The "Orchids" are star athletes, honor students, poets, humanitarians and feminists packed into 14-18 year old powerhouses that deserve the same opportunities as the top ten percent.
Photos by Nichole Galicia
Drawing workshop with Faber-Castell
WeWork Workshop: Portrait Drawing Techniques
June 20, 2019
PORTRAIT DRAWING TECHNIQUES WORKSHOP
When: 7/26 9:30am - 5:00pm
Where: 609 Greenwich Street, New York, NY 10014
A deep dive in portrait drawing techniques, this immersive full day workshop is packed with demos
Workshop Schedule:
9:30AM- 12 Introduction, Demos part 1:
Illustrating the face - basic anatomy, proportions and shapes

Graphite/charcoal/pastel techniques, composition and line quality

Creating highlights and Textures
12 noon-12:45PM - lunch break.
12:45-2.30PM Demos part 2:
Transferring image techniques

Eyes and hair drawing techniques

watercolor techniques with soluble graphite
WeWork Portrait Drawing Techniques Seminar
June 17, 2019
Here's Hodaya Louis leading a four-hour portrait drawing techniques seminar at the Greenwich WeWork space in June. In a small group setting Louis demonstrated the skills used to draw the female head using graphite, charcoal and pastel. A comprehensive look at portrait drawing, some of the topics covered were composition, line quality, values, capturing shadows and light, hair textures and eyes.
Photos by Brandi Nicole Photography
3-days workshop in Miami, FL
The Visionary Projects: Workshop
February 20, 2019
Last February, The Visionary Projects hosted Hodaya Louis for a two-day intensive workshop in Miami, Florida. The workshop, Expressional Beauty & Fashion Illustration, was designed for beginners and professionals alike to learn and refine their skills.
Many topics were related to portraiture techniques, including lessons on Illustrating the face - basic anatomy, proportions and shapes, charcoal techniques, involving composition and line quality, as well as how to create highlights and textures. Also discussed was how to paint metallic & gold leaf applications, mixed media finishing, including sealing and preservation techniques, and watercolor 101.

Wynwood, Miami, FL. February 2019. Photos by Haylee Barsky
Live painting @ Florentine Quartet
Florentine Quartet
Tel Aviv, April 2016